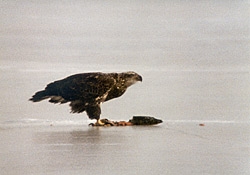 We are knee-deep into mud season, the lake is still carrying two feet of solid ice, and today's forecast is for five-to-nine inches of snow.But despite all that, the promise of warmer weather abounds; hoards of red-breasted Robins have arrived (looking somewhat perturbed because they can't find any grass to build nests), potholes and frost heaves are making a mess of our roads, and the shoreline of the lake is finally softening.
We can see Bald Eagles far out on the ice, busily devouring abandoned fishing bait that is slowly being exposed as nature's original icebox thaws. The fishing shanties are gone (although some tardy fishermen had to pull them to safety by laying planks across the open water separating the firm ice from the shore), and the view out my window is once again void of human activity.
Animals, be they feathered or furred, are reveling in the fact that they have the lake to themselves again. Deer are crossing the great expanse without having to look both ways to avoid being run over by zooming snowmobiles. Coyotes, with increasing regularity, are expanding their hunting grounds while keeping an eye out for potential mates. And the largest skunk I have ever seen (when I snapped on the flood light at two in the morning last week) was rooting through our woodpile searching for hibernating bugs.
Yesterday morning, just after sunrise, my husband and I awakened to the deafening sound of nearly a hundred crows gathered on the ice in what appeared to be either a heated town meeting or an environmental rally. When we looked through our spotting scope, every blessed crow was screaming an opinion; its beak raised to the sky, its chest puffed in indignation, and its beady little black eyes glaring. (It's a very powerful scope.)
It has been quite a long and record-breaking cold winter here in Maine, and we've noticed during our rides up to the mountains that many of the evergreens have suffered some degree of winter-kill. Rusty fir and pine needles pepper the usually dark green trees, as if an artist from the Arctic got carried away with his frosted paintbrush this year. There is still almost four feet of ice on some of the more northern lakes, and my poor husband spent most of his fishing days this winter hand-chiseling holes through the thick ice.
And with six layers of clothes bulking him up, and a smile peaking through his heavy winter beard, my husband only shrugs and says that the fish whisper to him in his dreams; calling, teasing, challenging him to come find them.   So I simply kiss him goodbye, wish him luck, and toss another log into the woodstove before rushing back to my nice warm bed.
Robbie's final trip north for this season was last week, and I have hope that spring is close at hand. The fishing traps and ice chisel are missing from their exalted place in the kitchen, and spinning reels and long, thin poles – that look like they'd snap at the first strike of a five-pound lake trout – now litter the living room.
And scattered through the mess are several brochures for lawn mowers. Lawn mowers! Why bother, I wonder. At the rate we're going, summer will be only a three-week season this year!
Until later, from a slowly thawing LakeWatch…