This is to announce that Alec and Carolina MacKeage are the proud parents of Lachlan MacKeage (middle name to be disclosed in future book), born in the basement of a church in Spellbound Falls two weeks before his parents were married. Thank you all for helping me choose a name for the mystical little bugger. I can't wait to see what havoc he wreaks!
Meanwhile, check out the maps of Bottomless Sea and Spellbound Falls.  You'll find them under the Spellbound Falls tab on the menu bar above.  And I've updated the Genealogy Chart all the way up to THE HIGHLANDER NEXT DOOR.
Oh, and before you leave the site, don't forget to vote.  I'm very curious if I should be Tweeting regularly, because I suspect Twitter is mostly authors following other authors rather than readers following us.  But if enough of my readers want me to Tweet, I will give it a go at least once a week but probably more.  I'll likely post pictures of what's happening around Maine in general and LakeWatch in particular.  Then again, I guess I could also post those pics on FaceBook.  But Tweeting is so easy, I'm more likely to do it more often.  I already have a Twitter account: JanetWrites. (I have no idea if there's suppose to be a hashtag included because I have no idea what they do.) So, I guess I'll leave the decision up to you.  Vote!
For the Love of Magic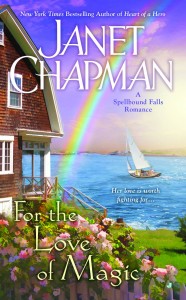 New York Times bestselling author Janet Chapman welcomes you back to Spellbound Falls, where love and magic can conquer anything…usually.
After forty years of marriage, Rana Oceanus has done the unthinkable and run away from her mighty, magical husband. Not that she ran very far, having purchased a house in Spellbound Falls right on the shore of the Bottomless Sea, where she intends to prepare for the scariest battle of her life. The only flaw in her plan, however, is that she is still very much in love with Titus…
Shocked and deeply shaken that his wife really has left him—though he still can't fathom why—Titus sets out to win her back. But when grand gestures of his esteem don't seem to further his cause, he conjures up some of his original courtship magic.
But his plan backfires when Titus discovers that dealing with demons is far less threatening than the little secret his very mortal wife has been keeping from him…
The Highlander Next Door
Coming August 26, 2014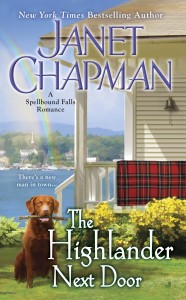 A delightful tale of a young woman who's had enough of men…until she meets her spectacular new neighbor.
Legend has it love is carried on the rising mists of Spellbound Falls, and not even time-traveling highlanders are immune to its magic…
Birch Callahan has seen the trouble men can cause. After witnessing her mother's four marriages, Birch now runs a women's shelter and doesn't want a man in her life. But there's something about her neighbor, Niall MacKeage. Birch can't figure out how the cop can be so big and gruff and yet so insightful and compassionate—and sexy. Or how she's falling for a man who acts like someone from the twelfth century.